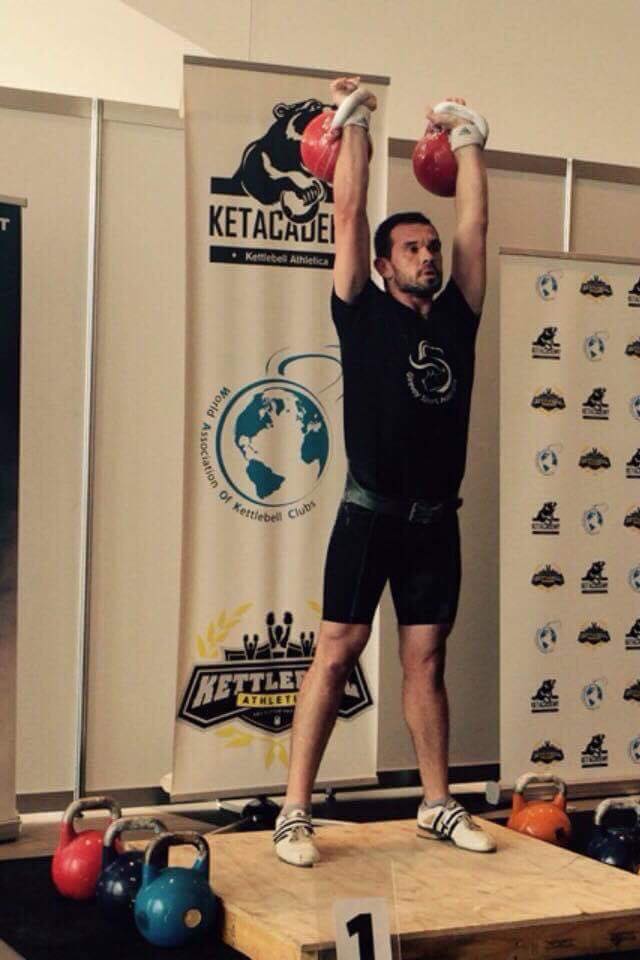 How Long have you been competing in GS?
Just on 5 years – May 2012.
What got you started?
My Supervisor at work (Andy Rouse) mentioned if I had heard of Girevoy sport, I hadn't. So I looked it up and was just blown away with what these athletes were doing. Their technique, power and endurance. So the next day I was online looking for Girevoy sport courses.
What do you like about the sport?
What I like about the sport is the Physical and mental aspect. Not only do you need to be physically fit and technically proficient but you have to be very mentally strong. There is no place to hide for that 10 minutes, you have to work through it and learn to be comfortable with being uncomfortable.
Do you have a coach?
Currently I'm training myself, but my coach for 3 and a half years(up to August 2016) Honoured Master of Sport and Honoured Coach of Russia Sergey Rachinskiy. Amazing Coach!!!
Do you have any ranks?
My Rank is MS- Master of Sport
2x32kg – Longcycle-Professional – 95kg class – 66reps – Australian Nationals- August- 2016
Best Competition results?
My best competition result is
2x32kg – Longcycle – Professional – 95kg class – 66reps – Australian Nationals – August- 2016
2x24kg – Longcycle – Amateur – 95kg class – 107reps – Arnold Classic Melbourne – March – 2016
What do you do when your not playing with Kettlebells?
I'm either reading, playing guitar, watching war documentaries or drinking a lot of coffee:)
Any advice for people new to the sport?
My advice is get a reputable coach, ideally one on one to start with. If you can't, find someone that has experience with online coaching.
Don't rush, take your time and enjoy.
Practice
Patience
Persistence
and trust in the program and process.