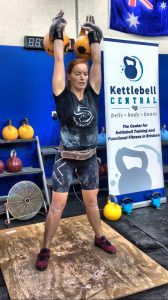 How Long have you been competing in GS?
I started in Oct 2013, with my first competition in early 2014.
What got you started?
A friend of mine at the gym asked if I wanted to go along to a new Kettlebell class they had just started. I knew that kettlebells were supposed to have great health benefits but thats all I knew at that stage. I said yes, and low and behold it was a class from Jessica Wadd. Since then that same class continues, attracting more and more new people to the sport in the area.
What do you like about the sport?
The sport style of kettlebell training is an amazing combination of strength and endurance. Not only does it make you physically fit, but also mentally too, as you need to be strong willed to succeed also. Whats more is the community and the friendship that is seen around the world in this sport. It truely is amazing.
Do you have a Coach?
Yes. I receive online programming from Abigail Johnston. One of the most outstanding female lifters in the world. I also attend a group session run by Jessica Wadd, another force to be reckoned with in the sport.
Do you have any ranks?
CMS OALC 24KG KetAcademy (Arnold Classic 2016)
Rank 1 Snatch IUKL (IUKL Worlds 2016)
Best competition result
One Arm Long Cycle – 58 reps 24KG Arnold Classic Melbourne 2016
Long Cycle – 69 reps 2x16KG IUKL Nationals Melbourne 2016. 2nd place medal at IUKL World Championships Kazakhstan 2016, with 68 reps.
Biathlon – 91 reps 2x16KG Jerk. 134 16KG Snatch QLD Regional March 2016
Snatch Only – 128 16KG Snatch IUKL World Championship Kazakhstan 2016 (6th place)
What do you do when your not playing with Kettlebells?
I am a Product Owner in a fast pace growing startup called Skedulo. Unfortunately it means I have a stressful, busy and sedentary lifestyle while at work. Meaning that its even more important to keep my strength and fitness up.
Any advice for people new to the sport?
Engage with the Kettlebell community around you. As you grow in the sport you will go through lots of ups and downs and having some great support behind you is vital. Also just spend the time under the bells, sometimes you will feel like the progress is slow, but you need to keep putting in the hard work to reap the rewards.